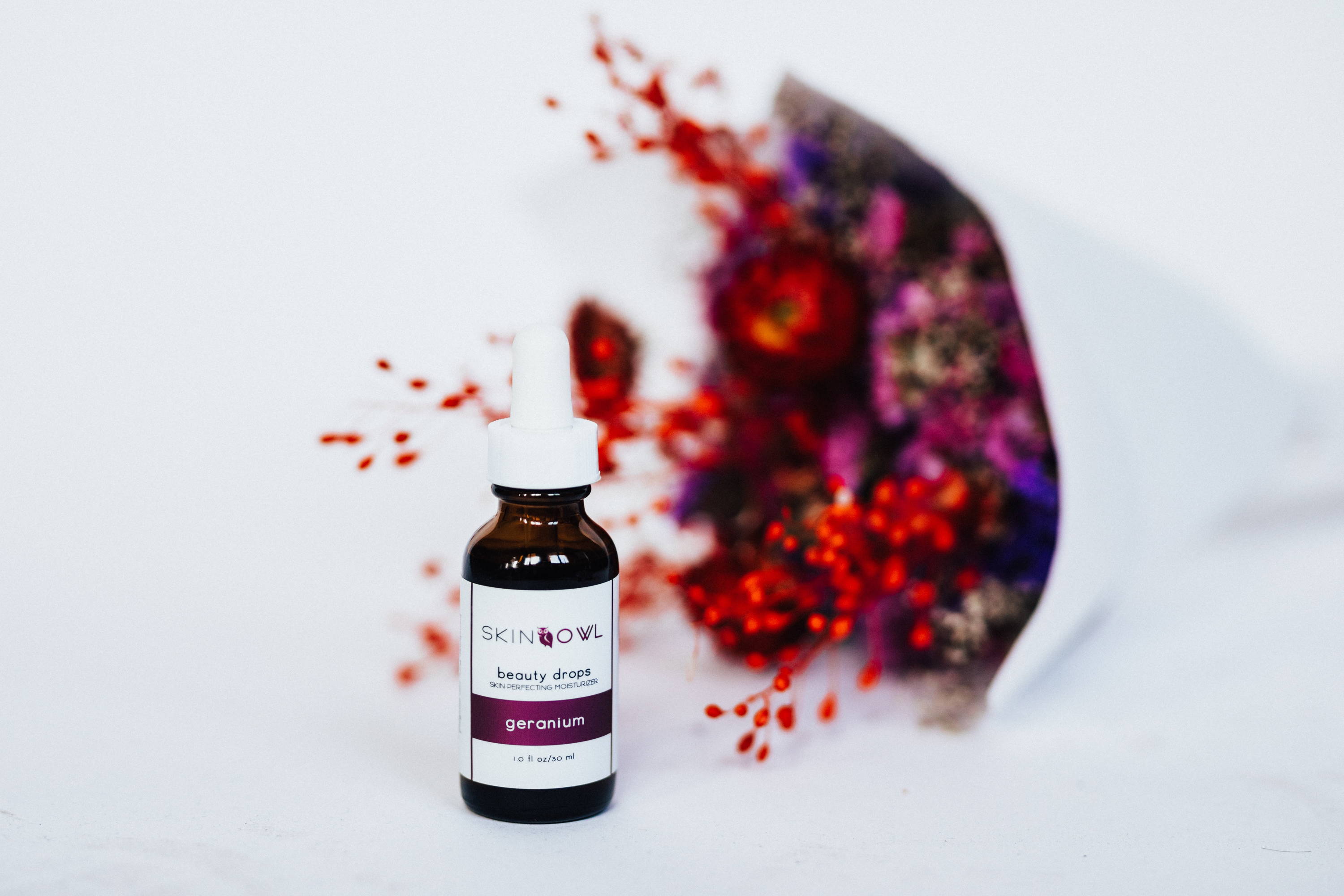 Geranium Beauty Drops balances, decongests and combats first signs of aging, while boosting radiance. Best for dehydrated, dull, combination skin types. This luxurious oil is to be used morning night, in place of a serum & moisturizer.
Ingredients — Raw, Organic, Unrefined Argania Spinosa Extract, Organic Rose Geranium Oil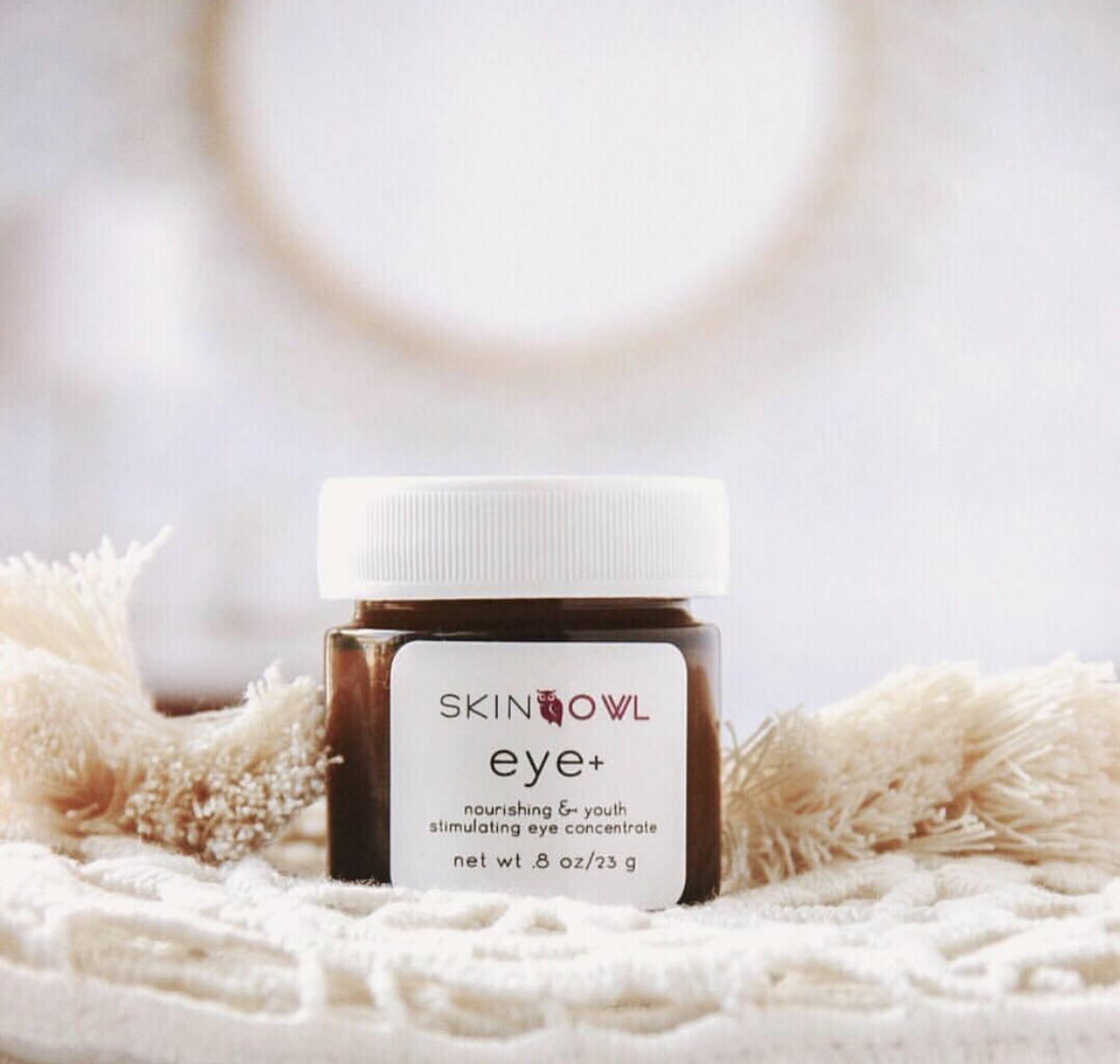 Lightweight, effective, efficient, unique. Hyaluronic Acid, periwinkle, and licorice ensure that deep penetration transform crepe-paper skin into healthy, resilient, and firm skin around your eyes. Cucumber fruit depuffs. Aloe smooths and silkens. The ultimate concentrate to combat fatigued, tired, run-down skin.
Crepe-paper skin is transformed into healthy, resilient skin. Allow the cucumber to depuff, aloe to smooth, and our botanical hyaluronic acid to lighten and tighten. Store in the fridge to promote extra de-puffing.
Ingredients — Aqua (Deionized Water), Aloe Barbadensis Leaf Juice (Organic Aloe), Glycerin (Kosher, Vegetable), Xanthan Gum, Simmondsia Chinensis Seed Oil (Organic Jojoba), Tocopheryl Acetate (Vitamin E), Dimethyl Sulfone (Msm), Caesalpinia Spinosa Gum (Tara), Palmitoyl Tripeptide-5, Sodium Pca, Sodium Lactate, Arginine, Aspartic Acid, Glycine, Alanine, Serine, Valine, Isoleucine, Proline, Threonine, Histidine, Phenylalanine, Vinca Major Extract (Periwinkle), Glycyrrhiza Glabra Root Extract (Organic Licorice), Cucumis Sativus Fruit Water (Cucumber Hydrosol), Sclerotium Gum, Alcohol, Potassium Sorbate (Preservative), Sodium Benzoate (Preservative)
"SkinOwl is a skincare company that allows men and women to feel as good as they look. A trusted brand, wherein the products smell good, feel good, and leave you glowing inside and out due to their fast-acting results. In creating SkinOwl, I [Annie] knew I wanted to achieve three main goals:
1) I wanted people to see results overnight.
2) I wanted to provide more than just skin care, but deliver a core component of total self-care too.
3) I wanted people to feel like they had a safe haven to ask questions and receive quality advice about their skin in what can often be seen as a confusing industry.
SkinOwl's sole mission is to educate you about your skin & deliver the best products, so that skin "care" can be the catalyst to caring about every genuinely important facet of your life. And why not? Your happiness is worth all the world's weight in gold."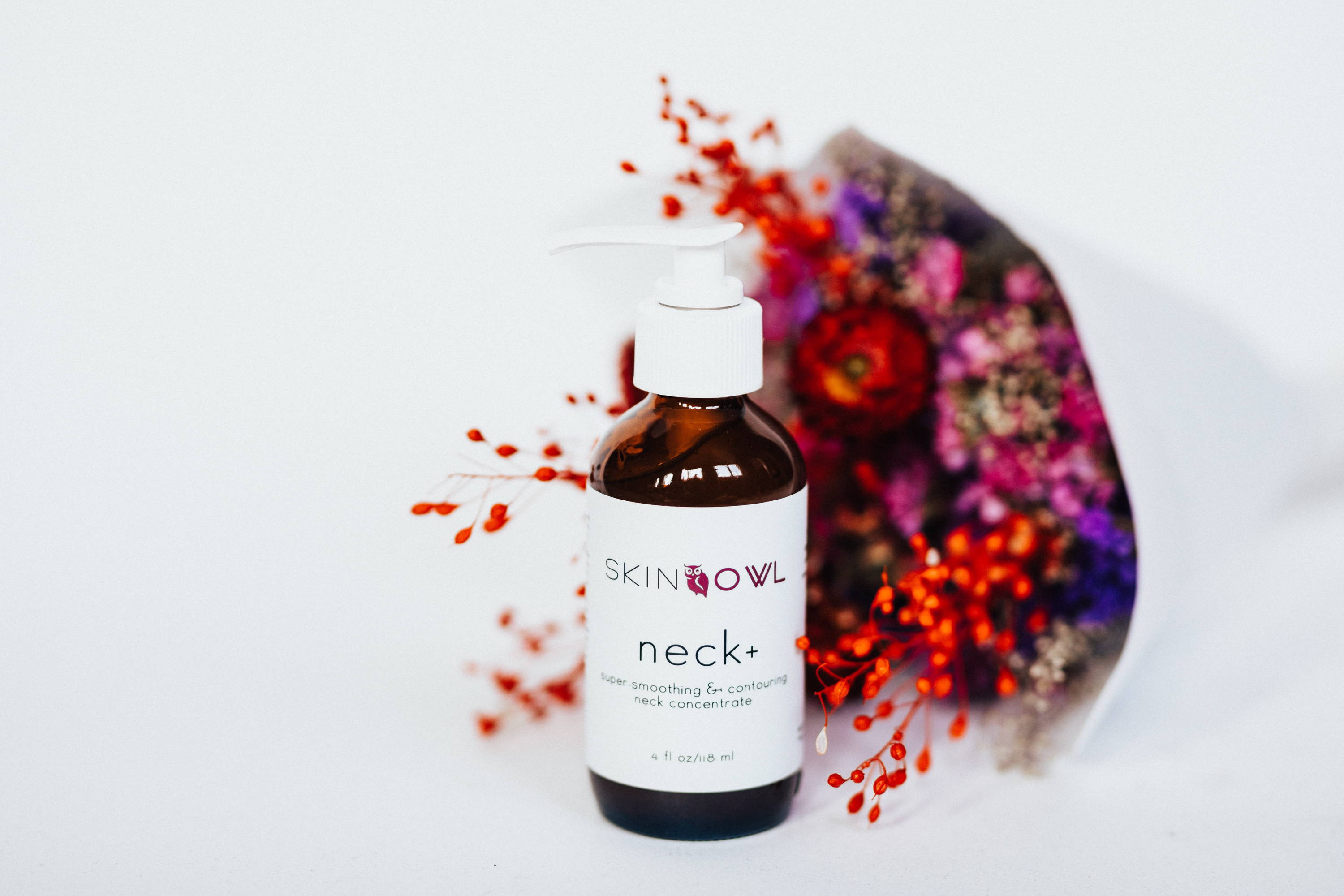 A symphony of healing herbs, restorative plant and flower compounds, and Ocean Mineral Complex in a super concentrated, bio-available delivery system. Our first ever super-smoothing & contouring neck concentrate made with superstar age-defying ingredients to create a smooth, youthful, and contoured neck and décolleté. Skin looks smooth, supple, and quenched, with dark spots & crease marks visibly reduced. Tight, toned, and radiant skin will be the evidence of this product's efficacy.
Aqua (Deionized Water), Hamamelis Virginiana Water (Witch Hazel), Dimethyl Sulfone (MSM), Aloe Barbadensis Leaf Juice (Organic Aloe), Sea Water Extract (Ocean Mineral Concentrate), Simmondsia Chinensis Seed Oil (Organic Jojoba Oil), Achillea Millefolium Extract (Yarrow), Chondrus Crispus Extract (Irish Moss), Curcuma Longa Rhizome Extract (Organic Turmeric), Spirulina Maxima Extract, Hydroxyethyl Ethylcellulose, Carrageenan, Potassium Sorbate, Sodium Benzoate, Ethylhexylglycerin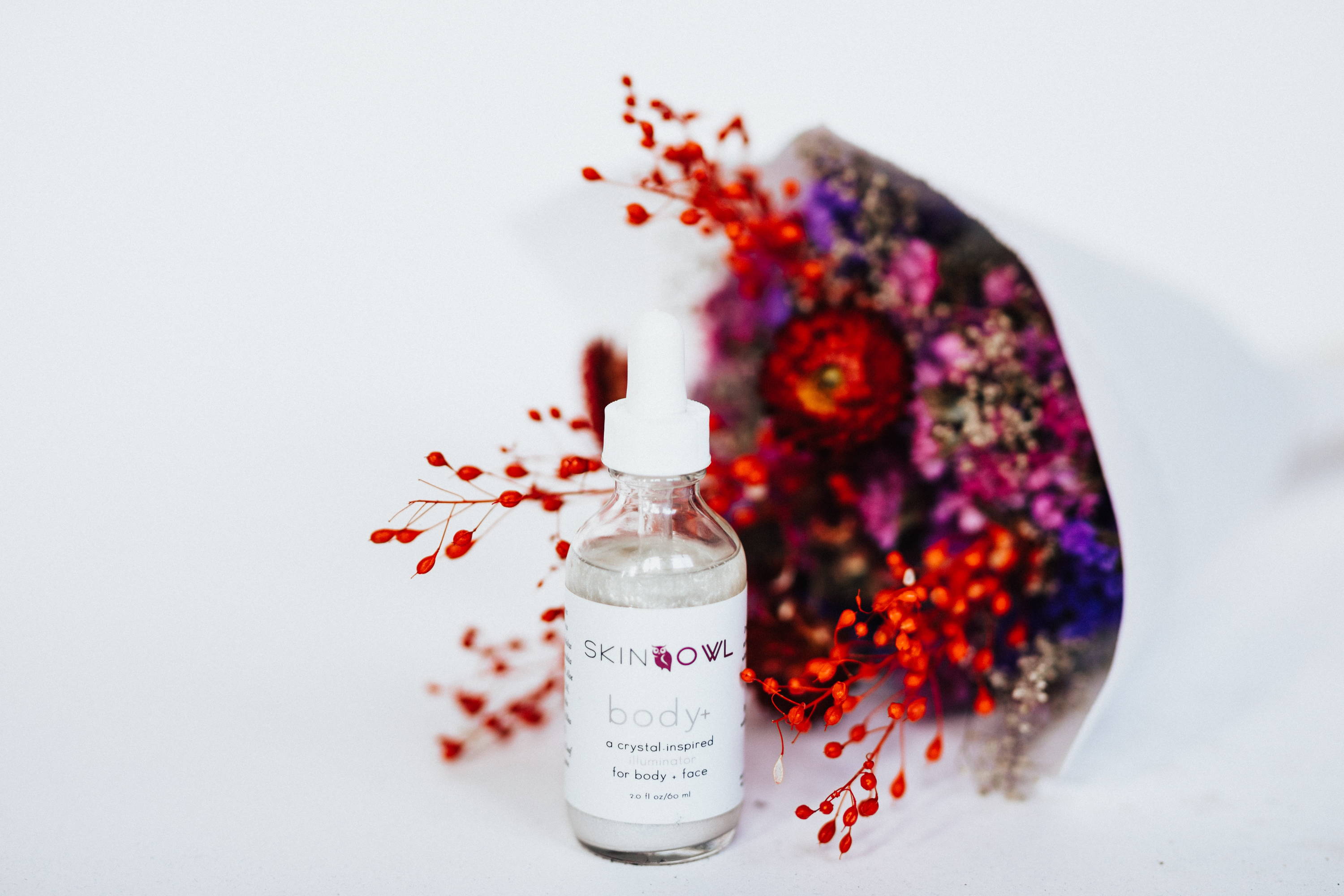 Drench the skin in a subtle sparkle and snow-kisses. Bright white calms redness and mitigates the appearance of uneven texture and tone.

Stone Power: The "great aura cleanser." Selenite keeps us on the right track, alongside people and things that bring out the best in us. When we apply it onto our collarbone, tops of shoulders and cheekbones, it's a subtle reminder that when we protect ourselves from the people and places that deplete us, we can achieve anything AND in half the time.
Carthamus Tinctorius (Safflower) Oil, Prunus Armeniaca (Apricot) Kernel Oil, Prunus Amygdalus Dulcis (Sweet Almond) Oil, Simmondsia Chinensis (Organic Jojoba) Seed Oil, Aloe Barbadensis (Organic Aloe) Leaf Oil, Tocopherol (Vitamin E), Calendula Officinalis (Calendula) Flowers in Olea Europaea (Organic Olive) Oil, Rosmarinus Officinalis (Rosemary) Leaf Extract, Azadirachta Indica (Neem) Seed Oil, Mica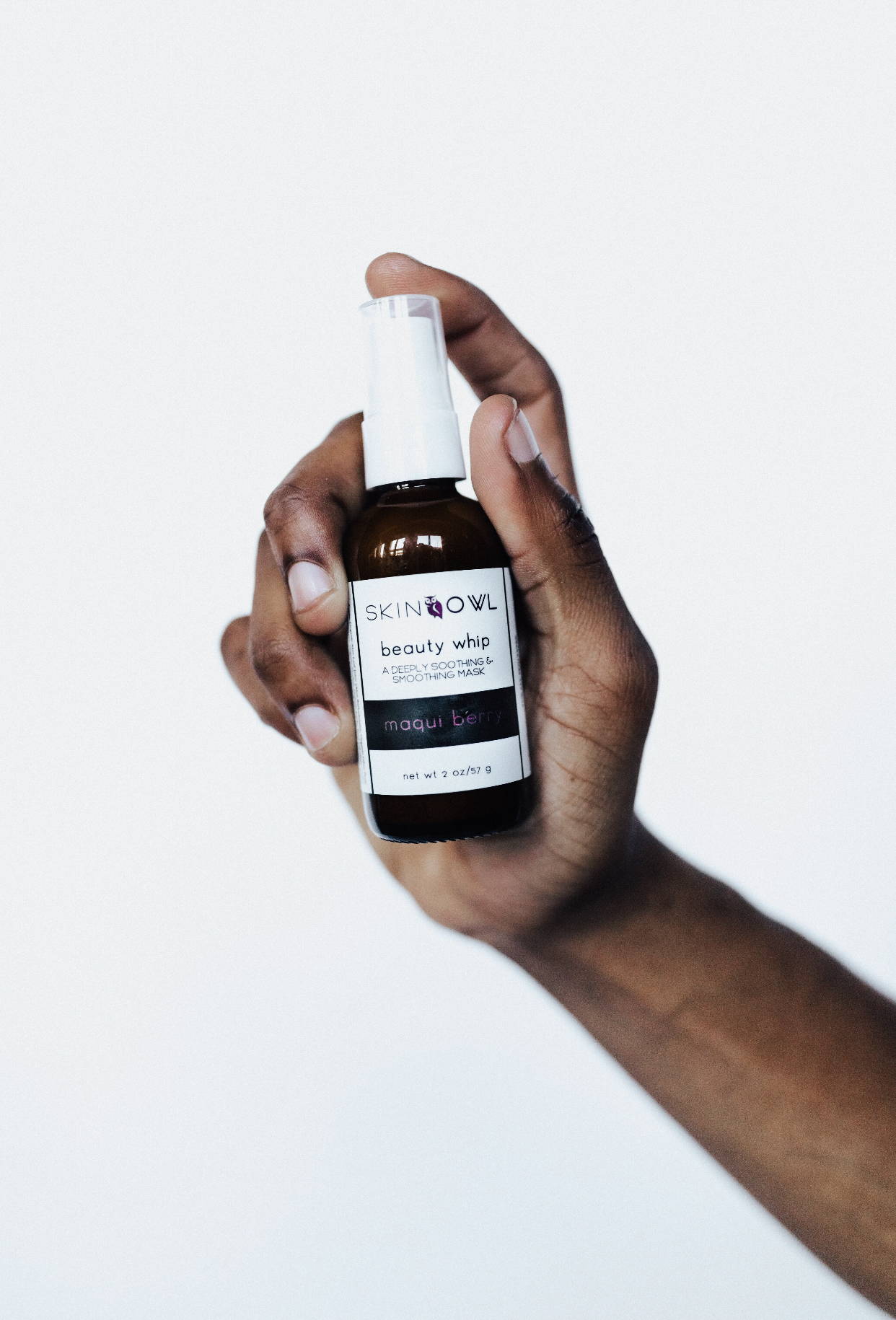 Discover the beauty benefits behind our all-in-one face mask, makeup primer, and Beauty Drops booster. One application reveals the look of intense moisture, even texture and tone, and a visibly brighter complexion. This gentle, creamy skin-drenching mask is boosted with fierce hydrators like Hyaluronic Acid, Organic Olive and Jojoba Oils, plus antioxidant rich Patagonian Maqui Berry, Organic Rooibos, toning DMAE, and smoothing MSM. Intended for all skin types.Vegan. Gluten-free.
Annie Tip: I love mixing one pump's worth with my Geranium Beauty Drops. It acts as a moisture booster and a makeup primer. I keep it in the fridge for extra plumping. The chilly application is amazing during this hot LA summer!
Ingredients: Organic Aloe Leaf Juice (Aloe Barbadensis), Organic Olive Fruit Oil (Olea Europaea), Organic Alcohol, Organic Jojoba Seed Oil (Simmondsia Chinensis), Emulsifying Wax (Cetyl Alcohol, Stearyl Alcohol, Lecithin), Stearic Acid, Hyaluronic Acid, MSM (Dimethyl Sulfone), DMAE Bitartrate (Dimethylaminoethanol Bitartrate), Rosehip Seed Oil (Rosa Canina), Organic Evening Primrose Oil (Oenothera Biennis), Organic Rooibos Leaf Extract (Aspalathus Linearis), Organic Lavender Extract (Lavandula Angustifolia), Maqui Berry (Aristotelia chilensis) Concentrate Powder, Organic Calendula Flower Extract (Calendula Officinalis), Organic Green Tea Leaf Extract (Camellia Sinensis), Organic White Tea Leaf Extract (Camellia Sinensis), Vitamin E (Tocopherol), Sunflower Seed Oil (Helianthus Annuus), Xanthan Gum