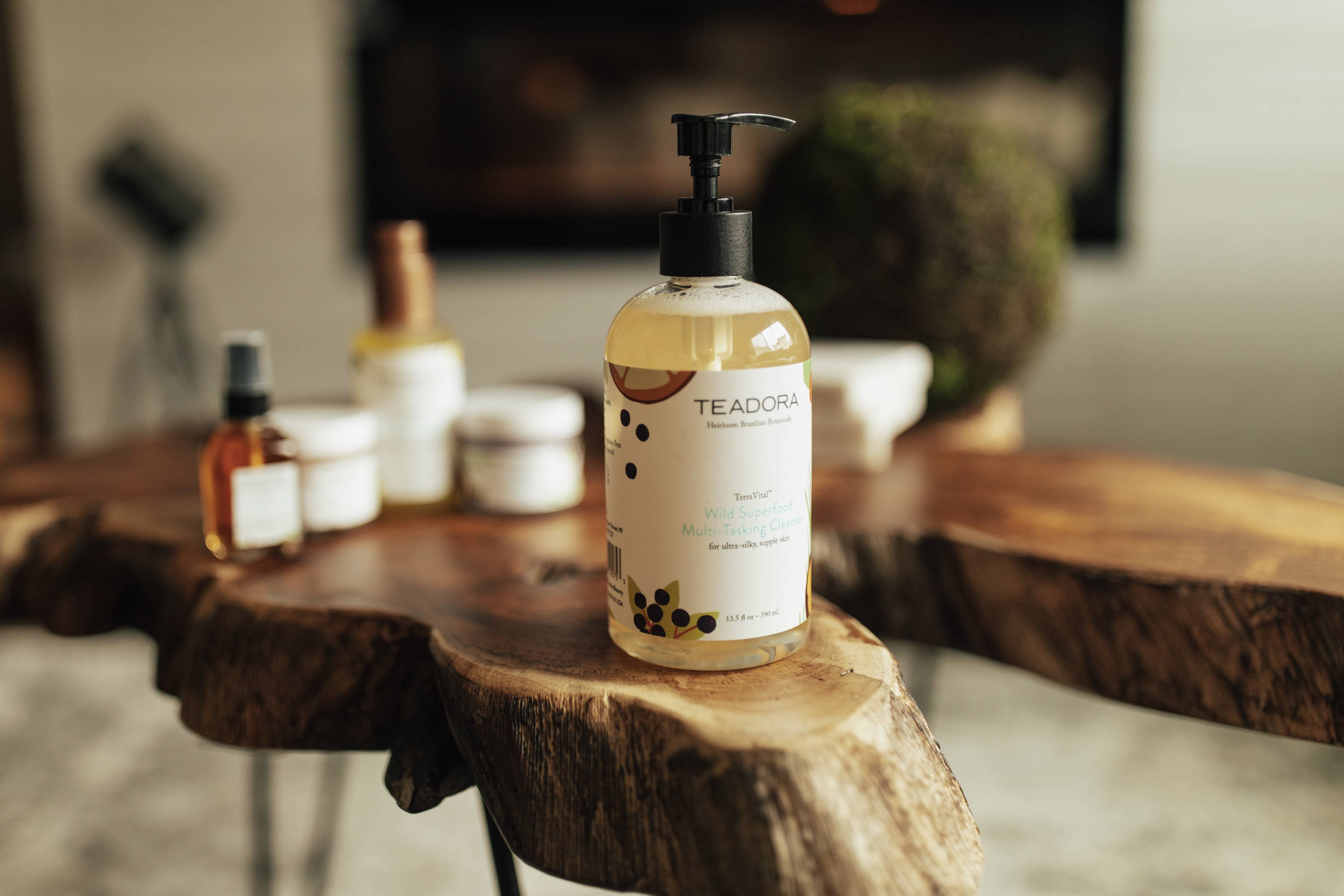 Wild Superfood Multi-Tasking Cleanser
Superfood for your skin. Teadora's new Brazilian Glow Ultra-Silky Cleanser for Face & Body is 100% reformulated into a very smooth cleanser that provides Gentle Cleansing, Protection, and Hydration for the most sensitive of skins. Crafted with our proprietary superfruit blend of Açaí, Buriti, Cupuaçu. These superfruits are rich in free-radical fighting antioxidants, vitamins and oleic and fatty-acids to provide intense moisture and softness while cleaning and revitalizing your skin. Buriti's anti-inflammatory properties also help to promote great skin health for sensitive skin. Crafted with our new 100% natural scent, a Citrusy Burst of Oranges & Lemon Grass that will awaken your senses.
Ingredients — Deionized Water, Decyl Glucoside, Sodium Cocoyl Isethionate, Organic Glycerin, Sorbitan Monooleate, Xanthan Gum, Panthenol, Diheptyl Succinate, Capryloyl Glucerin/Sebacic Acid Copolymer, Organic Aloe Barnadensis Leaf Juice, Eugenia Uniflora (Pitanga) Fruit Extract, Organic Euterpe Oleracea Fruit (Açaí) Extract, Organic Mauritia Flexuosa (Buriti) Fruit Extract, Theobroma Grandiflorum (Cupuaçu) Extract, Sodium Benzoate, Potassium Sorbate.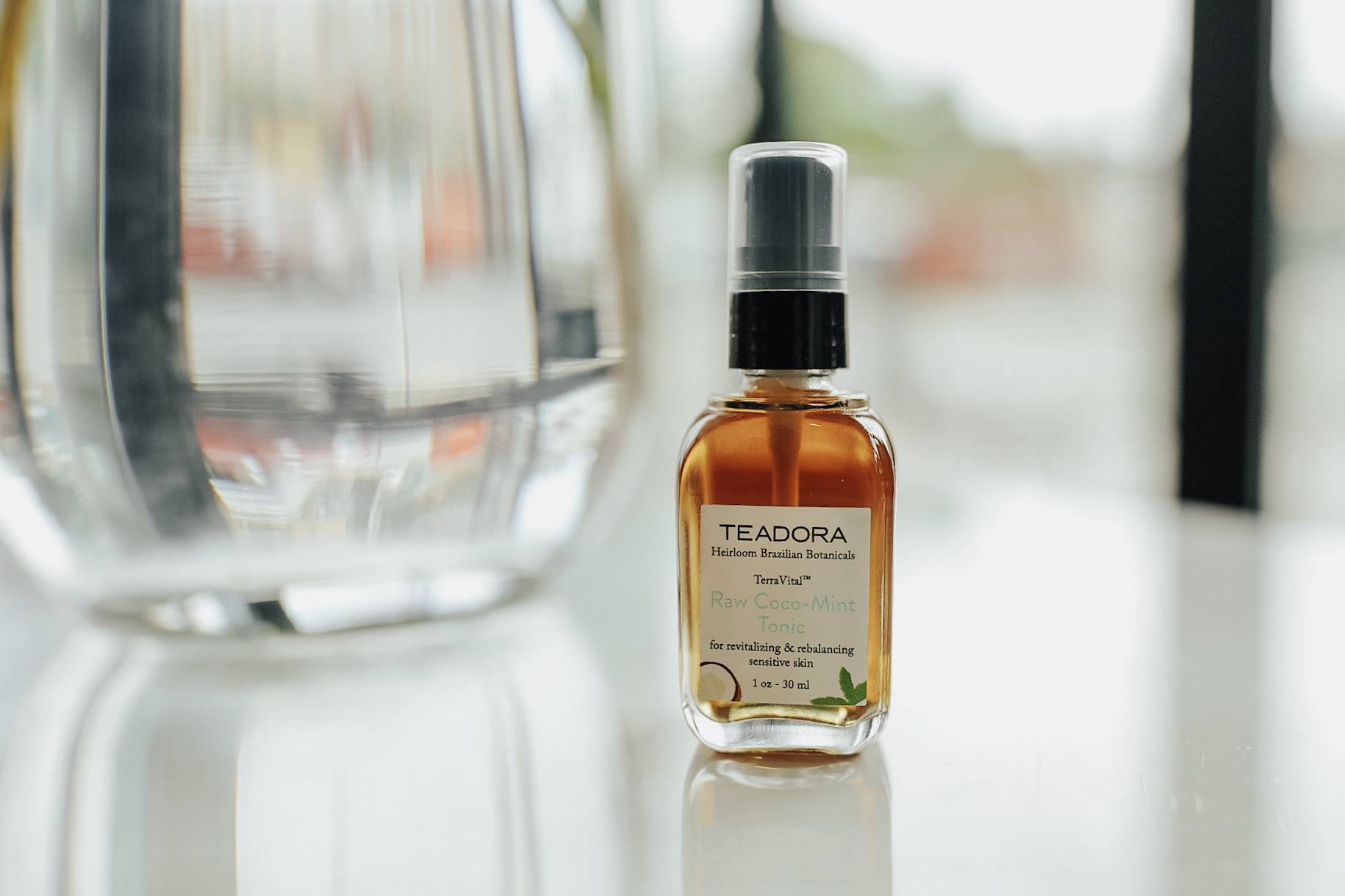 Teadora combined two exceptionally powerful plant powered ingredients Cosmetic Grade and Pure Coconut Water and Water Mint to create this amazing skin tonic. Use it individually as a powerfully refreshing and rejuvenating toner and/or mist or add it to your favorite DIY mask or moisturizer recipe. Take it with you wherever you go for a burst of protection, hydration and energy.
Coconut Water contains amino acids, Vitamins B & C plus minerals, helping to revitalize, protect, moisturize, re-mineralize and re-energize your skin. Water Mint It is also called green balm because it combats certain skin irritations. It contains anti-oxidant tannins, Flavonoids (vitamin P an excellent radical scavenger) and Saccharides that moisturize.
Benefits: * Protects *Hydrates *Helps fight free radicals *Re-energizes *Re-Mineralizes *Refreshes *Energizes.
Ingredients — Water, Gliceryn, Mentha Aquatica Leaf Extract, Organic Cocos nucifera (Coconut) Water.
Inspired by her mother – who cared for her skin and hair with natural remedies – and by her grandmother – who taught her the importance of social responsibility, Teadora helps to fund a philanthropic exchange between the U.S. and Brazil to promote rainforest conservation, education and leadership development.
"Our deepest hope is that we are able to share a little bit of this amazing country with you, and in turn give back to both Brazil and the rest of this amazing world we live in. We hope you love our products—and that you always love yourself, find your joy, share your passion."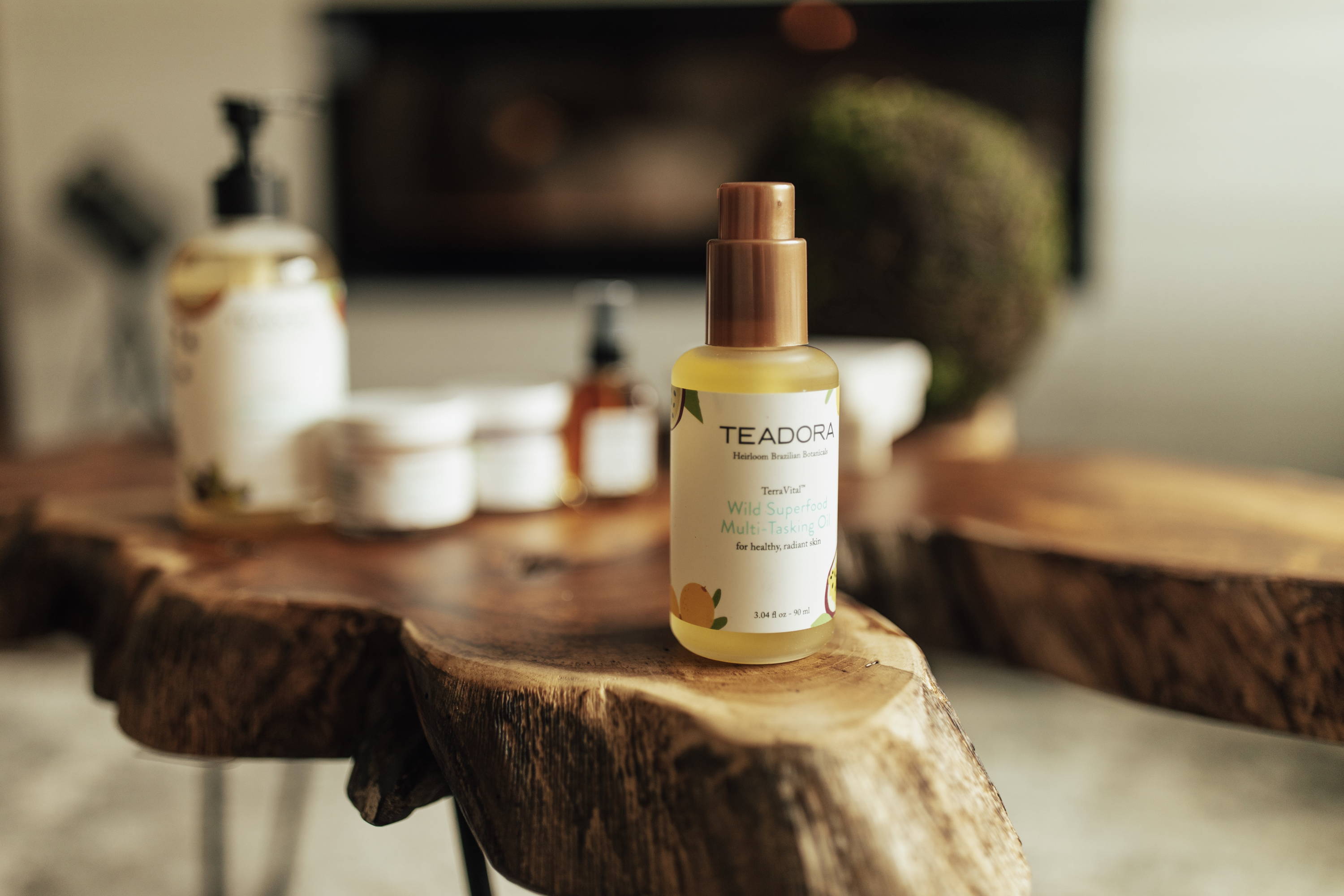 Wild Superfood Multi-Tasking Oil
Teadora's Vegan, Multi-Tasking Oil for Skin, Hair and Nails is crafted with our proprietary superfood cocktail of antioxidant, vitamin-rich, natural, organic and active essential oils from exotic Amazon rainforest superfruits, combined with Argan Plant Stem Cells. It protects your skin against free radical damage, provides deep hydration, firms, smoothes and repairs elasticity for radiant, healthier, smoother, younger-looking skin.
Ingredients: Organic Tinctorious (Safflower) Seed Oil, Vitis Vinifera (Grape) Seed Oil, Kosher Prunus Amygdalus Dulcis (Sweet Almond) Oil, Berthorlletia Excelsa (Brazil Nut) Seed Oil, Organic Rosa Canina/Rosa Rubiginosa (Rose Hip) Seed Oil, Orbignya Oleifera (Babassu) Seed Oil, Eugenia Unifloran (Pitanga) Leaf Oil, Organic Mauritia Flexuosa (Buriti) Fruit Oil, Passiflora Edulis (Purple Passionfruit) Seed Oil, Argania Spinosa (Argan) Oil, Salvia Hispanica (Chia) Oil, Non-GMO Tocopherol (Mixed-Ester) Vitamin E, Sweet Potato Extract (Vitamin A), Argania Spinosa Sprout Cell Extract (and) Isolmalt (and) Lecithin (and) Sodium Benzoate (and) Aqua, Natural Fragrance (*).
Teadora combined wildly potent Amazon superfruits with the highest quality, Full Spectrum, Oregon Grown Cherry Wine Strain CBD to bring you a luxuriously moisturizing, age-defying, ache-soothing, antioxidant-rich cream that will take your skin to new heights.
An exotic blend of 13 actives crafted with Amazon rainforest superfoods, such as age-defying Açaí and Plumping Guaraná, combined with 200mg of soothing, Cherry Wine CBD reenergizes, soothes and restores to keep your skin youthful and radiant.
With a light dose of our New "Life in The Tropics" Natural Scent, a tropical indulgence of Coconut and Vanilla that will soothe your senses while keeping the sweetness of summer lingering year round.
It's beautiful and unique purple color is a result of combining açaí oil with extracts from coccidia indica fruit (antioxidant) and neem flower (known to treat various skin conditions).
Ingredients: Purified Water (Aqua), Organic Aloe Barbadensis(Aloe) Inner Leaf Juice*, Organic Cocos Nucifera (Coconut) Water*, Prunus Dulcis(Sweet Almond) Oil, BerthorlletiaExcelsa(Brazil Nut) Seed Oil, Cocos Nucifera (Coconut) Oil, PrunisDulcis(Sweet Almond), Oleosomes Glycerin (Kosher), CetearylAlcohol, Potassium Olivoyl, Hydrolyzed Oat Protein, AstrocaryumMurumuru (Murunuru) Seed Butter, Theobroma Grandiflorum (Cupuaçu) Seed Butter , CetearylGlucoside, Melia Azadirachta(Neem) Flower Extract, CaprylhydroxamicAcid, VitisVinifera(Grapeseed) Oil, Ethyl Macadamiate, DiheptylSuccinate, Oryza Sativa (Rice Bran) Wax, CocciniaIndica (Ivy Gourd) Fruit Extract, Propanediol, Glyceryl Oleate, Cannabis Sativa (CBD) Oil, Panthenol (Pro-Vitamin B-5), Organic Euterpe Oleracea Fruit (Açaí) Extract*, Xanthan Gum, Glyceryl Caprylate, Natural Fragrance (1), ButyrospermumParkii(Shea) Butter, Glyceryl Stearate, Tocopherol (mixed Vitamin E), Euterpe Oleracea Fruit (Açaí) Oil, Organic OrbignyaOleifera (Babassu) Seed Oil*, Organic Mauritia Flexuosa(Buriti) Fruit Oil*,PassifloraEdulis (Passionfruit) Seed Oil, Organic Rosa Rubiginosa(Rosehip) Seed Oil*, Organic Ipomoea Batatas (Sweet Potato) Root Extract* (rich in Vitamin A), PaulliniaCupana(Guaraná) Seed Extract, Capryloyl Glycerin/Sebacic Acid, Copolymer, Isomalt, Euterpe Oleracea (Acai) Pulp Powder, ElaeisGuineensis(Palm) Butter, SimmondsiaChinensis(Jojoba) Seed Oil, Sodium AscorbylPhosphate (Vitamin C Ester), ArganiaSpinosa (Argan) Sprout Cell Extract, Malic Acid.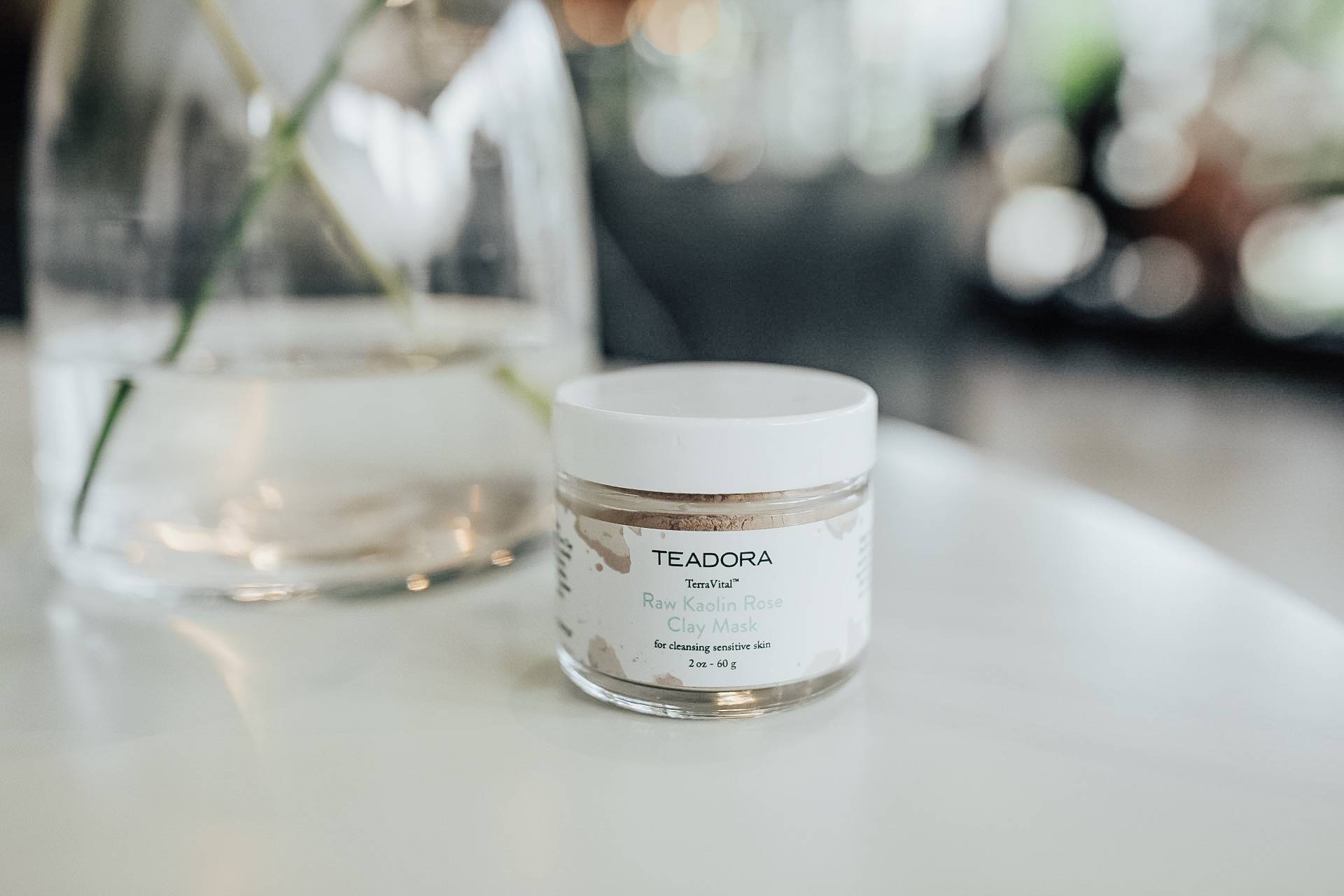 Raw Kaolin Rose Clay mask
Brazilian Kaolin Clays are the closest to your own skin PH and the least drying to your skin, especially when compared to bentonite clays.The mask is 100% natural and excels at removing waste impurities and dead skin cells. The active ingredients formulated into the clay mask reduce skin oiliness, providing a firming effect and increasing skin elasticity.
Ingredients: 100% Pure Brazilian Kaolin Clay.