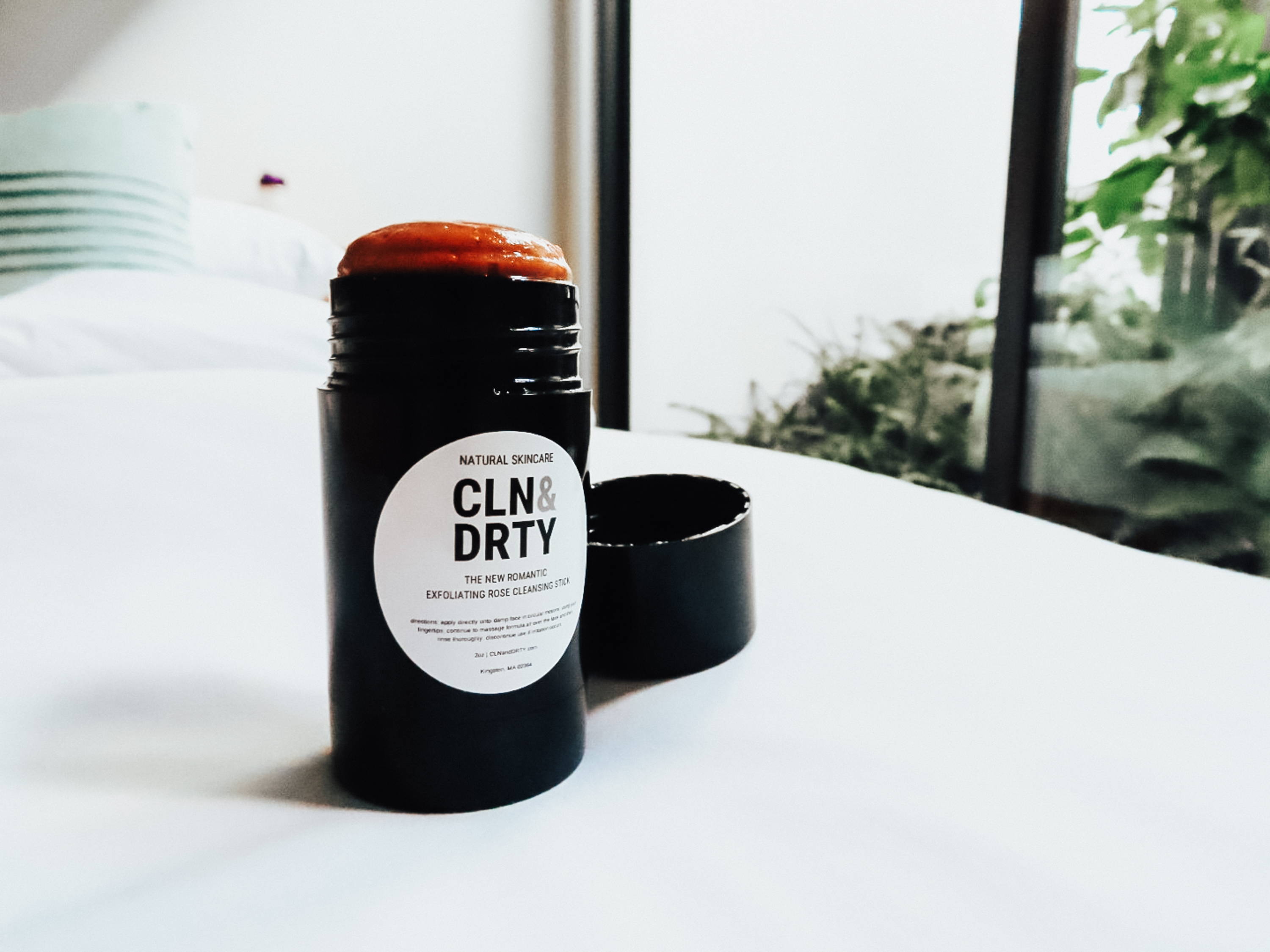 Exfoliating Rose Cleansing Stick
The New Romantic: Exfoliating Rose Cleansing Stick, refines skin to reveal smooth skin, gently washes away dirt, makeup and environmental impurities. Gently exfoliates with rose clay, rosehip powder and jojoba beads and soothes skin with premium lavender and lemongrass essential oils.
To use: Wet your face and the cleansing stick. Apply directly to damp face in a circular motion. Using your fingertips, continue to massage the formula all over your skin. Rinse and follow with a toner and moisturizer.
Ingredients — shea butter soap base (glycerin, water, sodium palmate, sodium palm kernelate, sorbitol, butyrospermum parkii (shea butter), sodium hydroxide, palm acid, palm kernel acid, sodium citrate, titanium dioxide, pentasodium pentetate, tetrasodium etidrona), rose clay, rosehip powder, jojoba beads, lavender essential oil, lemongrass essential oil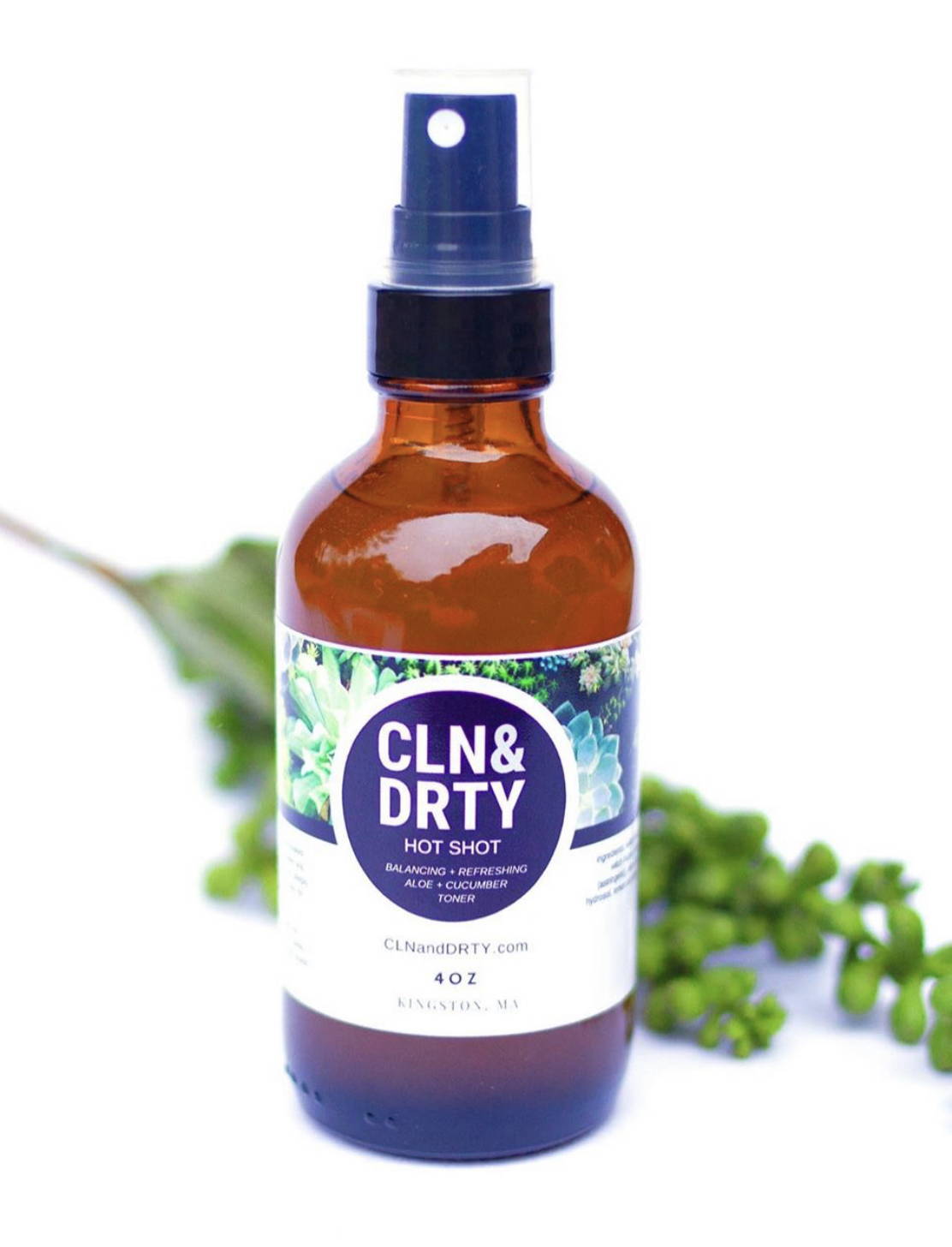 Balancing + Refreshing, Aloe + Cucumber Toner
The Hot Shot Balancing + Refreshing, Aloe + Cucumber Toner is a soothing facial toner, formulated with aloe extract, cucumber water and lemon and orange essential oils.
Directions: Use twice daily after you cleanse and before moisturizer. spray onto face and neck and wipe off excess with a cotton pad.
Ingredients - witch hazel (100% all natural witch hazel, containing alcohol 14% (astringent)), aloe 10x extract, cucumber hydrosol, lemon oil (citrus limon), orange oil, good vibes
"At CLN&DRTY, we are so excited to be able to provide our community with natural skincare products that are luxurious, safe and exceptionally effective."
founder & CEO
CLN&DRTY Natural Skincare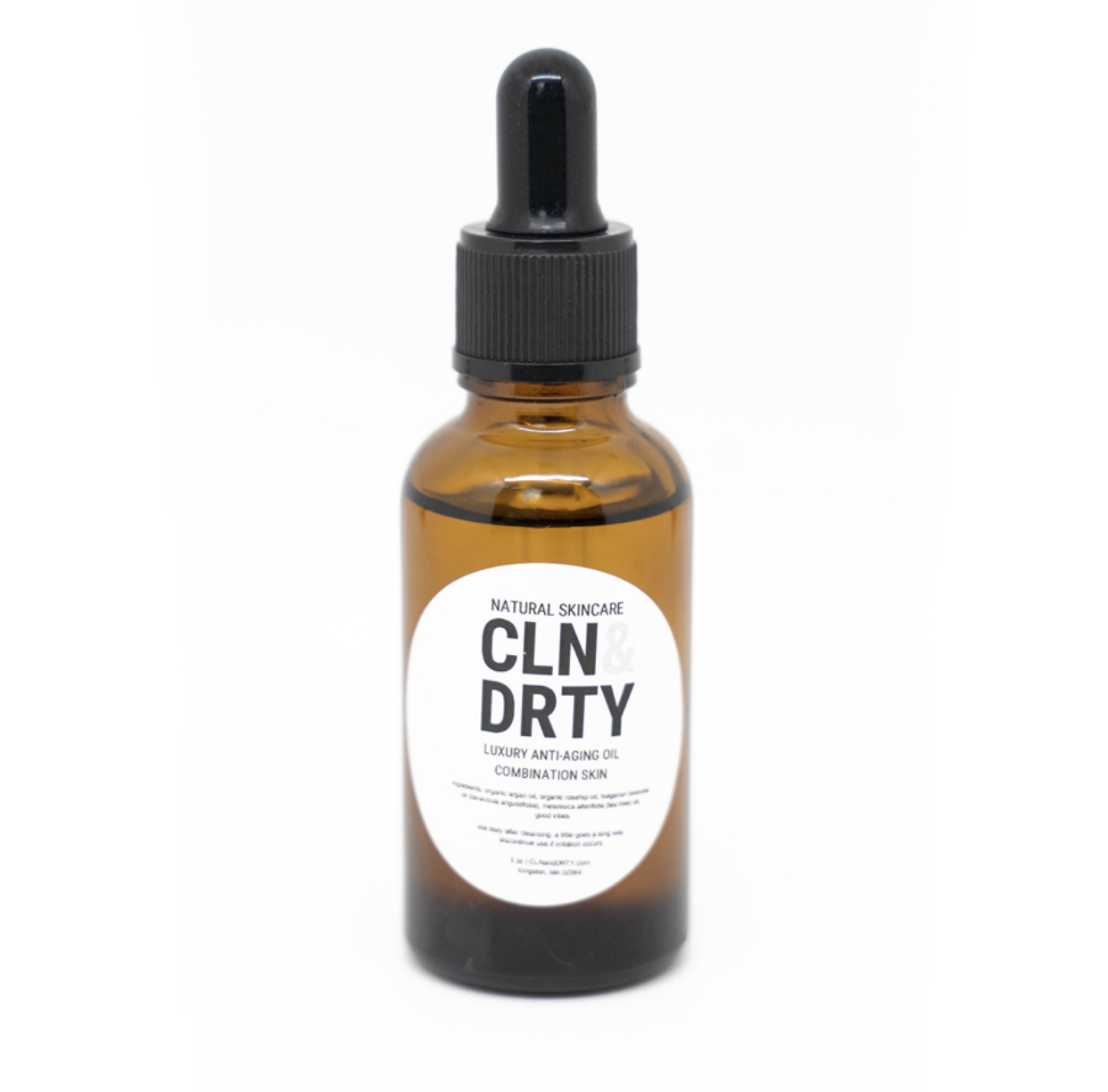 The Luxury Anti Aging Oil is a deeply hydrating blend of oils that is perfect for that pesky combination of dry and acne prone skin (Or, since you're clearly fabulous and flawless, to prevent future signs of aging.)
The natural skincare products significantly reduces the look of fine lines, wrinkles and all forms of acne with regular use.
Ingredients - Lavender Essential Oil, Tea Tree Oil, organic argan oil, organic rosehip oil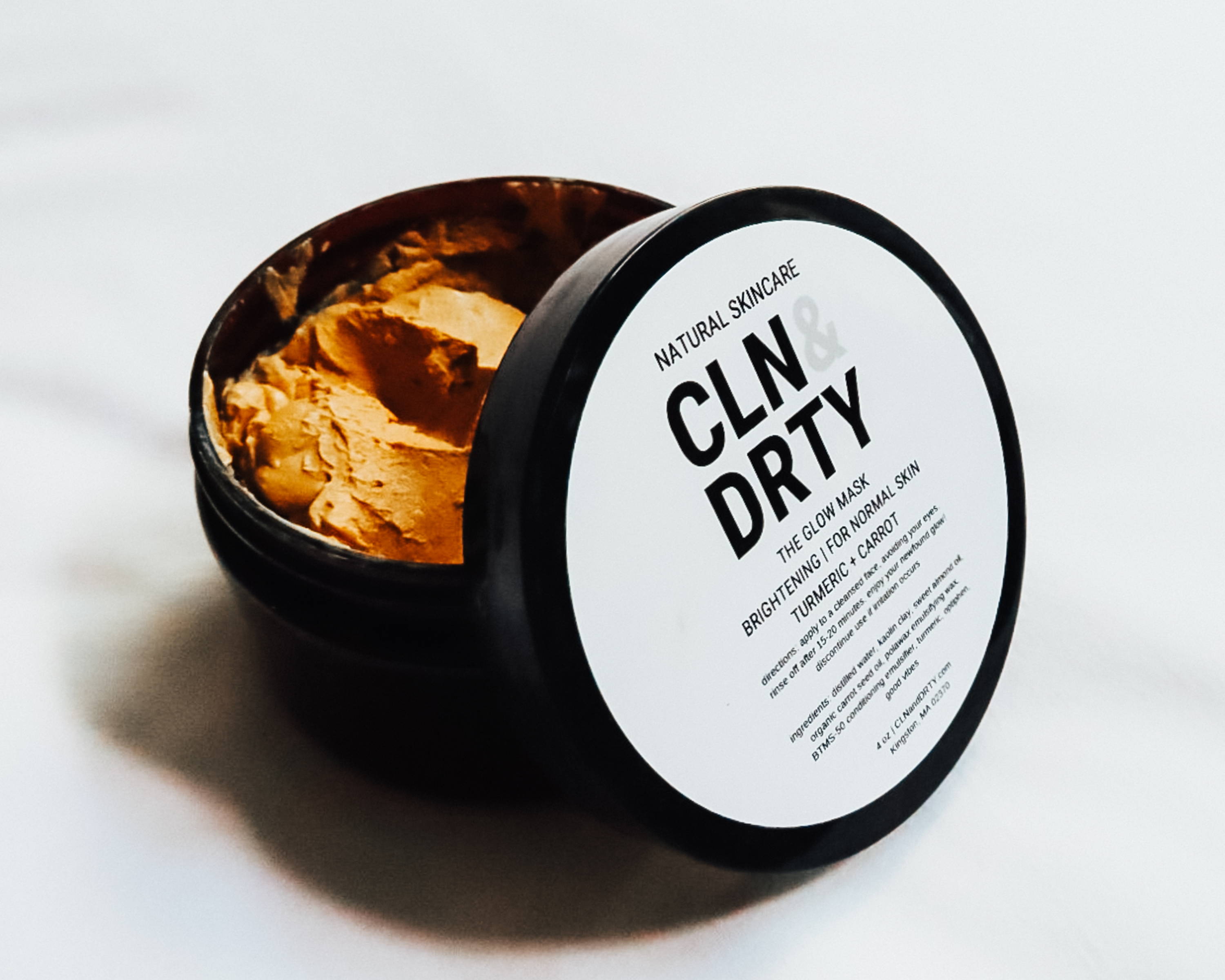 The Glow Mask pulls impurities, reduces inflammation and gives you a beautiful, natural glow. Trust us, you won't believe your new skin!
Directions: Apply to a cleansed face, avoiding your eyes. Rinse off after 15-20 minutes and enjoy your newfound glow!
Ingredients - distilled water, kaolin clay, sweet almond oil, organic carrot seed oil, polawax emulsifying wax, BTMS 50 conditioning emulsifier, turmeric, optiphen, good vibes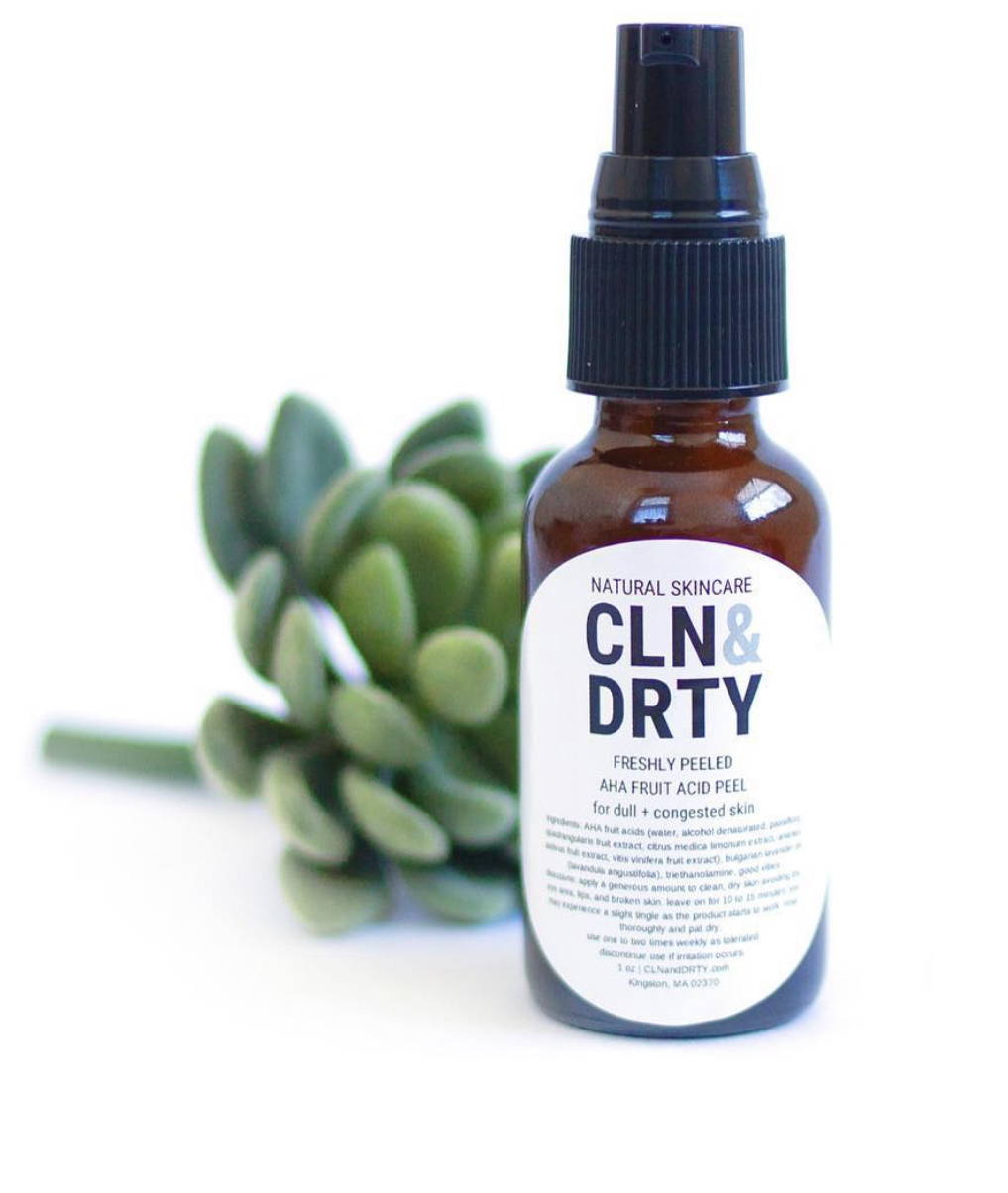 This groundbreaking 10% AHA Fruit Acid Peel is perfect for dull, tired and congested skin. It peels and resurfaces to heal acne, reverse damage, reduce texture and reveal youthful, glowing skin.
A blend of four alpha hydroxy acids, featuring lactic acid from passion fruit, glycolic acid from pineapple, tartaric acid from grapes and citric acid from lemon. Gently dissolves dead skin and promotes collagen production.
To use: Apply a generous amount to clean, dry skin, avoiding the eyes, lips and any broken skin. Leave on for 10-15 minutes (or more if tolerated), rinse with warm water and follow with a moisturizer. Repeat 1-2 times a week. You may experience a tingling sensation as the product starts to works.
Ingredients: aloe barbadensis (aloe) juice, hydroxyethyl cellulose, glycerin, carica papaya (papaya) extract, carica papaya (green papaya) extract, ananas comosus (pineapple) extract, phenoxyethanol, tetrasodium EDTA, citric acid, AHA fruit acids (water, alcohol denaturated, passiflora quadrangularis fruit extract, citrus medica limonum extract, ananas sativus fruit extract, vitis vinifera fruit extract), triethanolamine, lavender essential oil